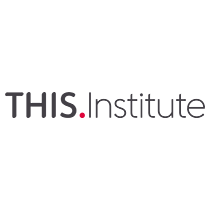 Mobas was tasked by The Healthcare Improvement Studies (THIS) Institute to draw on two sets of skills – video production and interactive development – taking an existing theatre production and producing an interactive film to explain the role and value of health services research.
Brief
THIS Institute operates to strengthen the evidence base for improving the quality and safety of healthcare. They believe efforts to improve care should be based on the highest quality evidence, and address the real concerns of patients and staff.
Using funding from a Wellcome Trust award, THIS Institute worked with Menagerie Theatre Company to develop a participatory theatre production exploring health services research, titled Not Quite Right. Following the premiere, the production was performed in a series of live events across the UK. Mobas was tasked with devising a way to help create the broadest possible reach for the project amongst THIS Institute's target audiences in an engaging and informative way.
Captivating a time-poor audience
The primary purpose of the project was to engage three distinct audiences: NHS staff, patient groups and the members of the public interested in healthcare research. We quickly identified that these audiences were extremely varied and significantly, in the case of NHS staff, time-poor.
As the target audience has varying levels of knowledge and education, coupled with limited free time, we worked with THIS Institute and Menagerie Theatre Company to devise an interactive film series that would be digestible and informative in equal measure.
Filming for the future
It was apparent from the outset that we would need to commission an original recording for this project. Whilst we used the existing script and actors, Mobas provided creative direction and fresh ideas to make the theatre piece work in this new context. We worked closely with Menagerie Theatre to record the piece with multiple camera angles and numerous run-throughs to allow us to capture each scene in a way that would lend itself to digital interactivity.
Using technology to enhance engagement
There are many aspects of the performance that exemplify the sorts of problems THIS Institute are trying to solve through engaging people in healthcare improvement research. Some are subtle, some not. But they all deserve to be expanded upon with research and further explanation.
We, therefore, devised a strategy to utilise WIREWAX to add an interactive layer to give the video the depth required. WIREWAX technology transforms pixels into interactivity and allows viewers of the film to touch, explore and discover more about the project.
A powerful result
The final production is a carefully constructed, engaging and, at points, entertaining journey through the NHS from the perspective of one stroke patient.
It features Chris, who lives with his wife Meena and their friendly – but very noisy – dog. Chris doesn't like to cause a fuss, but this morning, he has been feeling … not quite right. And Meena thinks it's time he got some professional help.
We follow Chris as he navigates the NHS while experiencing a serious health problem. Along the way, he runs into systems and processes that are meant to diagnose, treat and keep him safe. But as you'll see, they aren't always supported by the best evidence.
The interactive film has been shared by THIS Institute through a wide variety of channels to reach their target audiences and the team are delighted that their vision for transforming an original theatre production into a piece that can be widely shared has been achieved.
You can view the interactive film here.