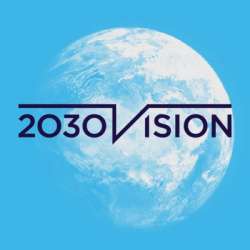 2030Vision's ambition is to transform the use of technology through collaboration, innovation and implementation, to support the delivery of the UN's Global Goals and unlock the commercial opportunities they offer. 2030Vision works with a selected network of patrons, partners and supporters to identify and scale impactful technologies through multi-sector partnerships.
Reaching partners
2030Vision uniquely connects business, NGOs, academia and Governments with the technology solutions needed to realise the Goals. It is the foundation for new partnerships and innovation to help business unlock the opportunities and enable all of us to create a better future.
Having recruited partners such as Unicef, Microsoft, Samsung, arm and Facebook, to name a few, Mobas was tasked with creating a social media strategy to communicate how 2030Vision can transform the use of technology so that all people can live their lives to their full potential by 2030.
Identifying the right audience
Strategy is at the heart of everything we do and this is inherently part of your wider marketing and communications plan. Having reviewed 2030Vision's strategy and challenged it comprehensively, we developed a social media programme. This included content pillars to guide and influence the direction, style and tone of their activity across different social media channels as well as the advertising tactics to exploit the full potential of the channels available to reach it's target audiences.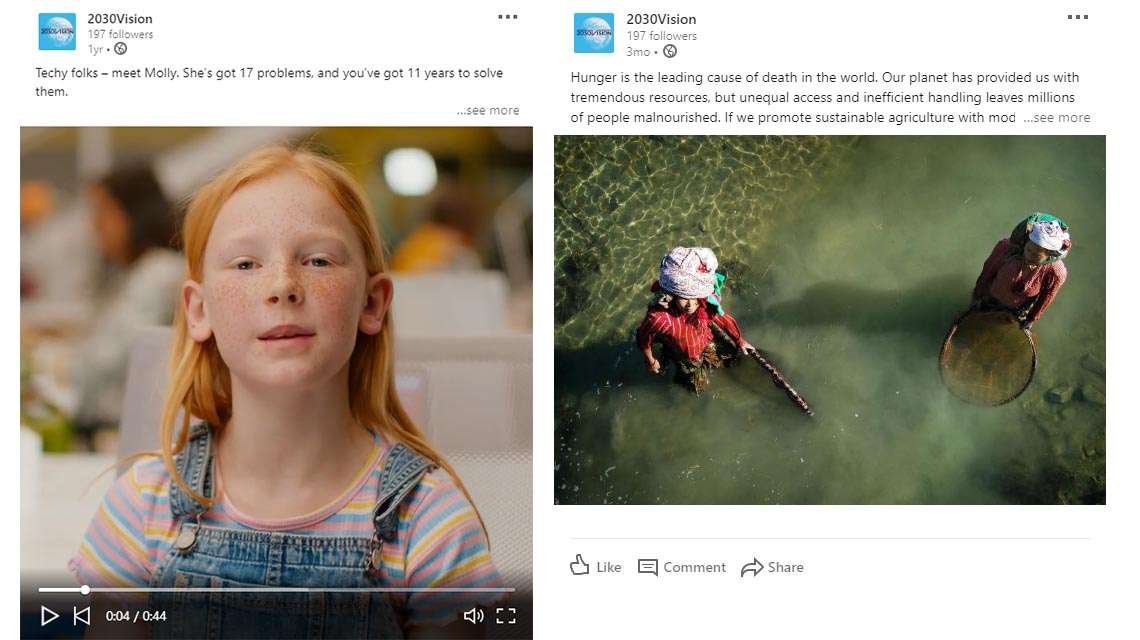 Picking the right channels
2030Vision is active on Facebook, Twitter and LinkedIn. We approached each channel differently to capitalise on the benefits of each – Facebook is mainly about community, Twitter is reactive and real-time, and LinkedIn offers the best B2B marketing solution.
Facebook: We primarily used Facebook to raise awareness of the development goals and the results achieved, focusing on the impact and people affected by the projects involved with 2030Vision. Facebook is ideally suited to longer-form, evocative content. Retargeting through Facebook Pixel also allowed us to drive repeat engagements and website traffic.
Twitter: Twitter's shorter and snappier content lent itself to tweets about individual projects and partnerships, as well as engaging with real-life events/hooks and partners.
LinkedIn: LinkedIn's primary focus was on the technology and the amazing partners joining 2030Vision, showcasing the work that has been achieved and how others can get involved.
Delivering Impact
Over the past 18 months, this revised strategy targeted provided a highly targeted campaign which proved significantly more effective in expanding and growing awareness of the 2030Vision then their previous broadcast-centred approach.
Since the very start of our relationship, we helped to formulate a series of metrics and benchmarks to measure success over time and help the 2030Vision team to make better informed, data-driven decisions to demonstrate a clear return of investment.
Our highly targeted campaign was focused on reaching decision-makers at a small number of global giants across the technology and academic spectrum. Over the past 18 months, we've delivered over 350 custom posts, securing more than 5,000 engagements. During that time, social media has been the largest referrer of traffic to the 2030Vision website, responsible for 75% of website visits.